Our Music
---
---
SEE YOUR FACE AGAIN
Download or stream here: https://orcd.co/seeyourface.
'See Your Face Again' (16 June 2023) is a cry for connection and compassion. Amidst a world of crises, trauma, and forced separations, the song offers a poignant expression of the desire to be reunited. Driven by soft vocals, aching lyrics, and flickering instrumentation, 'See Your Face Again' moves its listeners to a sense of harmony, urging them to see and treat refugees as people in need of empathy and support.
The song was released to raise awareness for Refugee Week in June 2023, with the video developed in partnership with Kent Refugee Action Network, a charity which works to support young people arriving in Kent, where the Marsh Family live. It is The Marsh Family's first ever collaboration, with Afghan violinist Ali Esmahilzada featuring in subtle flourishes that punctuate the track and reflect his own experience of fleeing Kabul to the United States in 2022, and then being gifted the 100-year-old antique violin that is woven in with the vocals, clarinet, and cello.
| REVIEWERS SAID | SOURCE |
| --- | --- |
| "We are so inspired to see how the incredibly talented Marsh Family are using their platform to raise awareness." | Enver Solomon, CEO of Refugee Council |
| "As devastatingly beautiful as it is necessary…singles don't come much more seminal than See Your Face Again." | A&R Factory |
| "Leaves an indelible mark on the hearts and minds of its audience." | We Write About Music |
| "A profound anthem of heartfelt compassion which unites all listeners under the banner of love and understanding." | Lost in the Manor |
| "This beautiful and moving composition by The Marsh Family serves as a beacon of hope, reminding us of the power of music to bridge divides and inspire positive change." | Honk Magazine |
| "The vocals are lovely, but the harmonies are particularly stunning here, showing the true strength of The Marsh Family." | York Calling |
| "This song deserves to be heard by all people around the world" | Yellow and Black Music Magazine |
---
THE WOKE SONG
Stream on Spotify and don't forget to FOLLOW us!
'The Woke Song' (16 July 2023) is a comedy song about the rise and rise of the term 'woke' and the way its meaning has been twisted to suit different ends. In particular, the song pokes fun at how people use the term to identify all sorts of monsters and fears, and pander to alarmism about changes in culture. The song features Ori Ori, the puppet orangutan who first became a character during the pandemic.
It's a semiotic, automatic weapon when provoked!

The Woke Song
---
MY STORYBOOK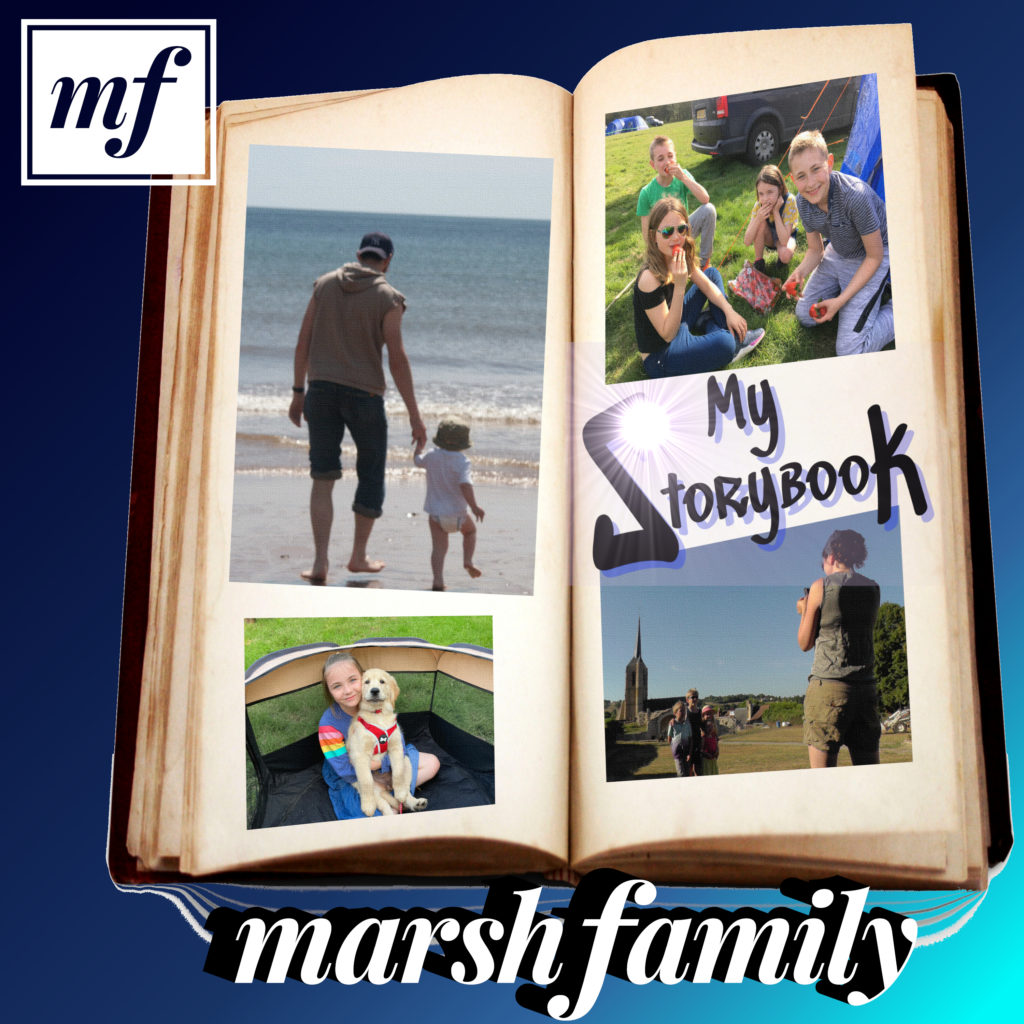 Download or stream here: https://orcd.co/mystorybook.
'My Storybook' was released on 17th February 2023. A song about gladness, memories, companionship, and celebrating the simple things that ground us and make life worthwhile. It was selected for the FATEA Magazine Showcase Spring Sessions for 2023.
The song was written and premiered for Danielle's parents' Golden Wedding Anniversary in Newcastle in 2022, with a video featuring lots of their childhood memories, holidays, and shared experiences and friends and families.
| REVIEWERS SAID | SOURCE |
| --- | --- |
| "A pop-folk nostalgic gem…The Marsh Family is slowly becoming a musical phenomenon, managing though to always maintain their soulful, authentic, and honest spirit." | Mesmerized |
| "It's a truly positive-feeling number…manages to feel amost euphoric in places." | Send Me Your Ears |
| "intricate and inspiring new single…a vibrant and expressive soundscape…full of poetic prowess and intentional depth." | KIMU |
| "The country-pop track has an anthemic charm" | Good Music Radar |
| "Joyful and heartwarming…an irresistible ode to the simple pleasures of life and the enduring power of love" | Find No Enemy |
| "Captures the essence of summer…a warm and comforting sound that invites the listener in…a perfect addition to any summer playlist." | Plastic Magazine |
| "Especially poignant in today's world…infectious joy and positivity…The production is polished yet retains a rustic charm that perfectly complements the family band's sound." | Illustrate Magazine |
---
IN THE BLEAK
Download or stream here: https://orcd.co/inthebleak
"A huge heartfelt thank you for raising such a wonderful amount in December with your song" (Save the Children)
'In The Bleak' (Christmas 2022) was The Marsh Family's release for Christmas 2022. After UK Gift Aid, it raised £8,000 for Save the Children – thanks to everyone who donated in tough times. The song confronts with harmonic resonance and heartfelt lyrics the dire state of the world and the need for us to hang onto hope and take heart in tough times.
The official video is on The Marsh Family's YouTube channel.
| REVIEWERS SAID | SOURCE |
| --- | --- |
| "In a seemingly plastic world, this humble fearlessness must be admired for its courageous energy…a terrific track." | A&R Factory |
| "Absolutely beautiful." | Music Asylum |
| "Boatloads of empathy…hits hard." | TJPL News |
| "Deserves to be on the same shelf as the greatest standards of the season." | Music for All Magazine |
| "Soulful passion…riveting blend of vocal timbres." | Sinosoidal Music |
| "A work of great depth and conscience." | Rock Era Magazine |
| "An excellent Christmas song" | Music Arena |
| "This is the way to do charity singles." | FATEA Magazine |
---
BIOLOGICAL CLOCK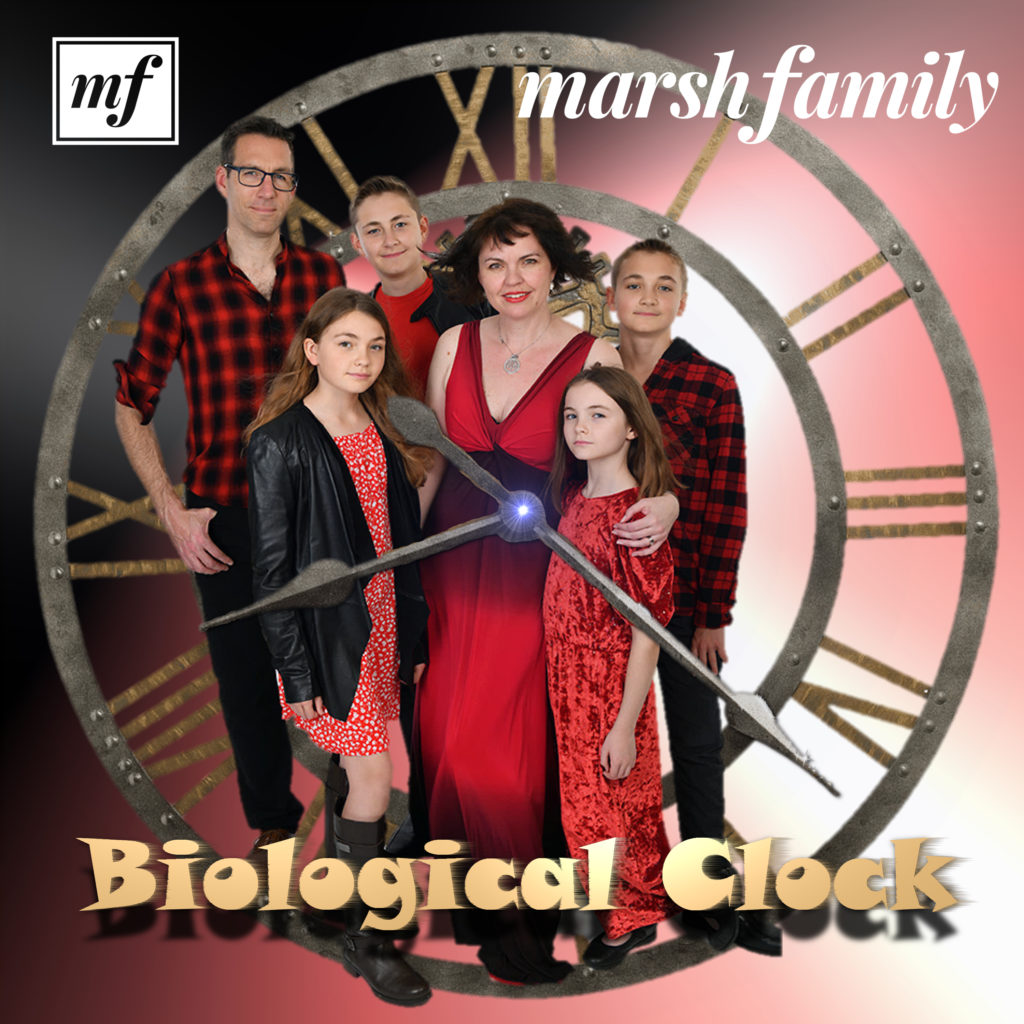 Download or stream here: https://orcd.co/biologicalclock
'Biological Clock' (Summer 2022) is the UK's first ever pop song about the menopause. It relates the family's exposure in recent months to this rite of female passage – tackling a stigmatised topic in a funny and frank way. Approved by several menopause charities, the song tells a story of onrushing symptoms and challenges, describing a rollercoaster of emotions, but finishes on a strident note as layers of harmony, rich horns, and a thumping bass close out the track stressing unity and understanding.
Danielle insisted "the song needed to be positive and powerful as well as funny, because women are often scared and surprised by the changes we all face, so it was important to find the right balance."
| REVIEWERS SAID | SOURCE |
| --- | --- |
| "A funky menopause anthem" | Mariella Frostrup |
| "A danceable funk groove: whimsical, informative, and endlessly fun." | Alchemical Records |
| "Old-school funk with contemporary jazz edges…a serious message in a jovial melody." | The Other Side Reviews |
| "The Marsh Family have managed to produce an absolute disco corker here." | Send Me Your Ears |
---
WE'LL HAVE TO WAIT FOR SUE GRAY'S INQUIRY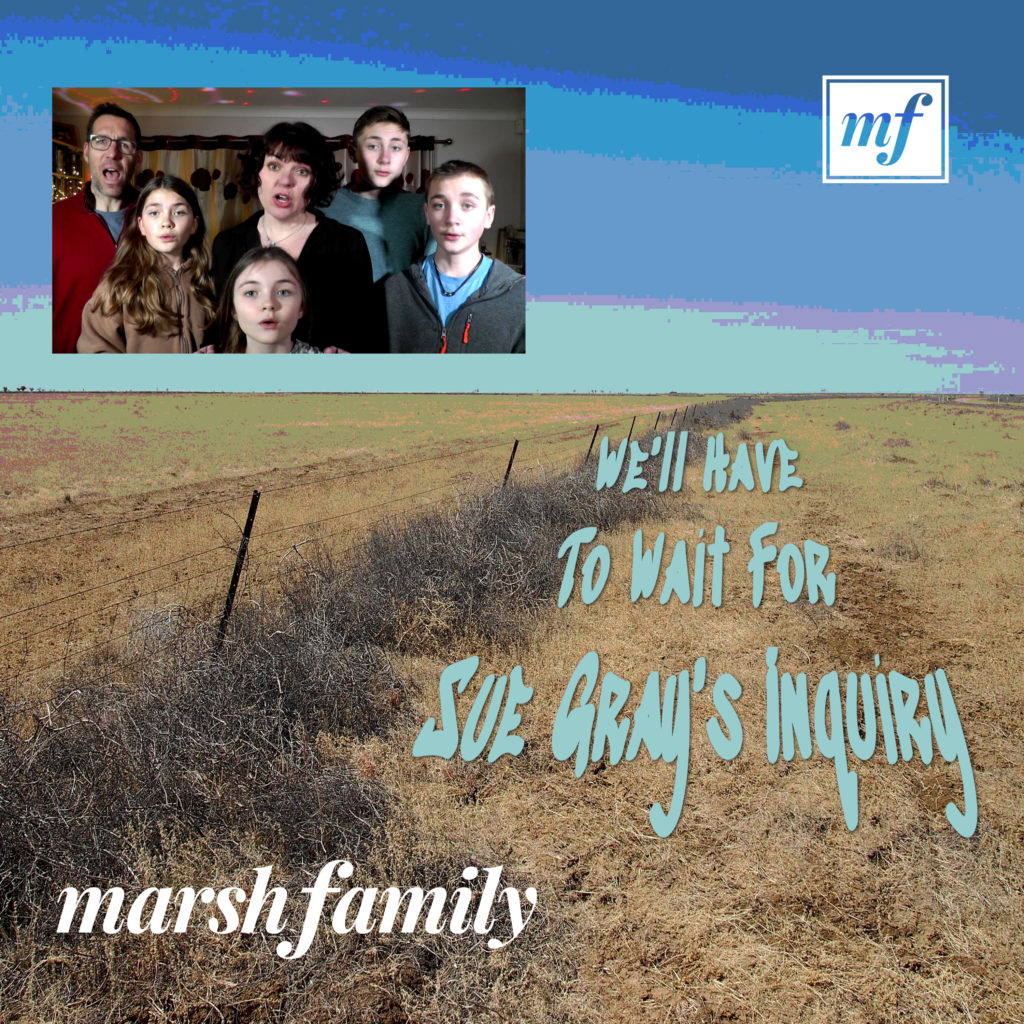 Download or stream here: https://orcd.co/biologicalclock
'We'll Have to Wait for Sue Gray's Inquiry' (Spring 2022) was a satirical musical take – in the tradition of parody and music hall – on the spectacle unfolding in the UK government. Long before the COVID inquiry, at the early stages of the public confronting Boris Johnson's failures and lies (and his later proven culpability and police fine and Parliamentary sanction), a huge amount of weight was placed on an inquiry which he commissioned into his own actions. It made for rich material for a video which racked up a third of a million views.
---
MACK THE KNIFE (PROSTATE CANCER – FACTS OF LIFE)
Video shortlisted for a Brand Film Award in 2022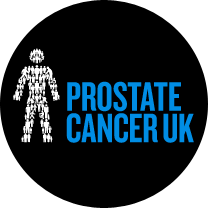 "We're delighted the mega-talented Marsh Family has chosen to support Prostate Cancer UK in such a fun was this Christmas period" (Angela Culhane, Chief Executive, Prostate Cancer UK)
'Mack the Knife (Prostate Cancer – Facts of Life' was The Marsh Family's official single for the charity Prostate Cancer UK in Christmas 2021 – who began working with them on the project after learning of the family's own video celebrating their Grandad's successful prostatectomy shared in 2019.
The
| REVIEWERS SAID | SOURCE |
| --- | --- |
| "This is just sensational!!" | Ben Shephard, GMB |
| "A brilliant way to send an informative and message – about prostate cancer " | Sharon Barbour – BBC TV Health Correspondent |
| "Oh my goodness this is brilliant! – Please share to encourage men worried about prostate cancer to get checked." | Alison Tree, NHS Oncologist |
---
BRING US A CANDLE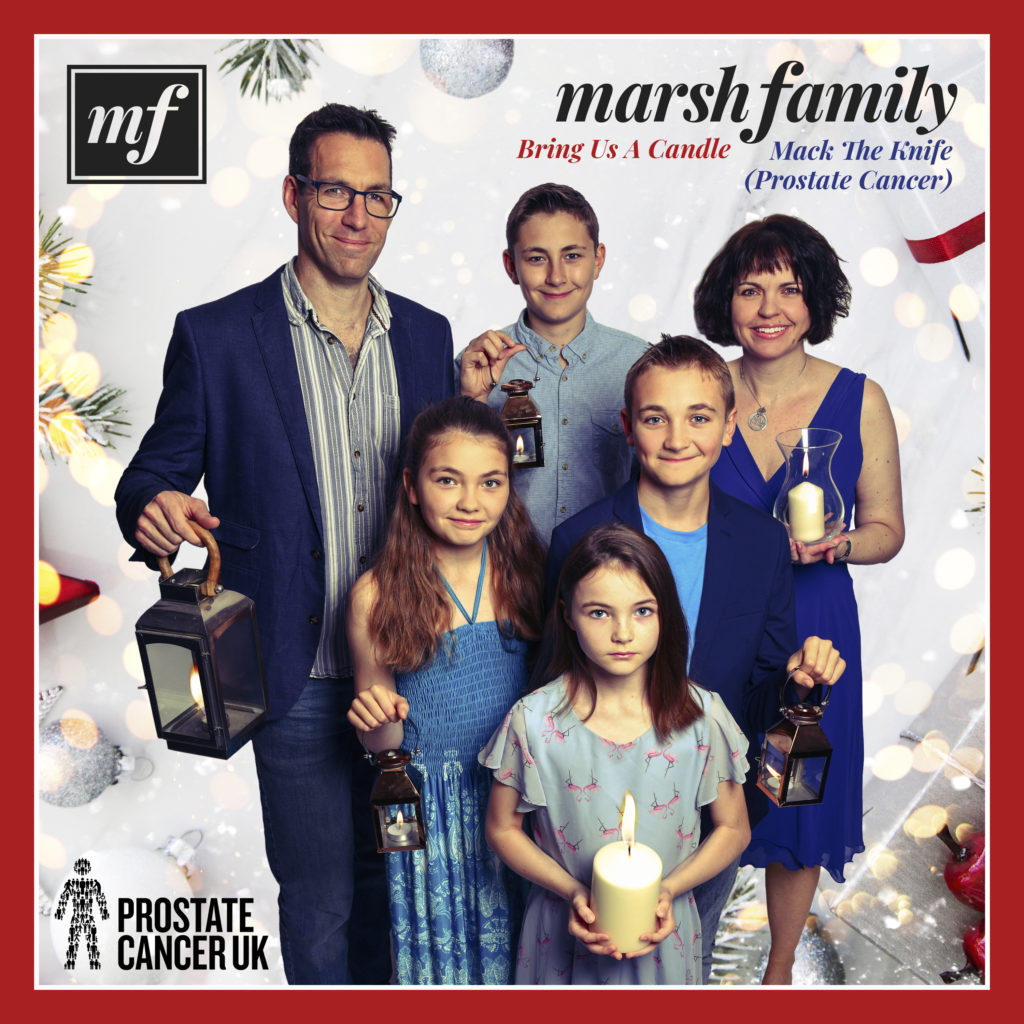 Download or stream here: https://orcd.co/marshfamilychristmas
'Bring Us A Candle' (Christmas 2021) was The Marsh Family's debut single. It addressed what Christmas felt like during the pandemic, playing with notions of blackouts, dark times, isolation, and the need for resilience. The track builds into a big finale – rich with harmonies and cornet (Ella) – and drawing on the iconic Christmas song "I Saw Three Ships" as a kind of deliverance from darkness.
| REVIEWERS SAID | SOURCE |
| --- | --- |
| "With a joyous and rousing ending…sure to give you those fuzzy feelings perfect for the winter season with family." | Subba-Cultcha Reviews |
| "The Marsh Family put us to shame with their holiday blackout ingenuity…I love what you all do!" | Mira Sorvino |
| "In true Marsh Family style, isn't quite the traditional festive number it might first appear." | OK! Magazine |